MEETINGS
NOVEMBER TOPIC: Addressing Educational Challenges
Marcus J. Newsome, superintendent, Chesterfield County Schools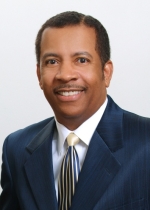 Dr. Newsome joined CCPS as superintendent in 2006. He proudly reports that forty-two schools have earned the Governorís Award for Excellence in Education, Board of Educationís VIP Excellence Award or Board of Educationís VIP Competence to Excellence Award. Additionally, in 2010, the school division became the largest in Virginia to have all of its schools fully accredited for three consecutive years.
Immediately prior to moving to Chesterfield County, Dr. Newsome served as superintendent of Newport News Public Schools. Previously he worked in Prince Georgeís County (Maryland) and in the District of Columbia Public Schools. The superintendent received a bachelorís degree from Elizabeth City State University in North Carolina, and his masterís degree in administration and supervision from Bowie State University, in Maryland. He has earned both a doctorate degree in educational leadership from Bowie State University and a doctorate in religious education from International Seminary in Plymouth, Florida. Dr. Newsome is married to a public school teacher and is the father of three children.
Richmond First Club
Monthly Luncheon

Wednesday, November 13 - 12 noon

The Public is cordially invited to join us at our next Lunch Meeting.

Willow Oaks CC - 6228 Forest Hill Avenue, Richmond, VA
$25 guests and the public/ $20 for members
Reserve Your Seat Now, call 804-272-5818 or email
karaschke@comcast.net
Richmond First Club meets at the Willow Oaks Country Club, 6228 Forest Hill Avenue., Richmond, VA. For more information or to make reservations for the luncheon meeting, call 804-272-5818 or email karaschke@comcast.net . Lunch for members is $20 and $25 for guests. Meetings are held the second Wednesday of each month unless otherwise noted. The public is welcome to attend meetings.