CELEBRATING MORE THAN A CENTURY OF PUBLIC SERVICE
Thomas Jefferson believed that ignorance is the greatest enemy of democracy:
"Whenever the people are well-informed,
they can be trusted with their government."
The Richmond First Club, celebrating more than a century of public service, was organized with this principle firmly in mind-that our city can thrive only with a well-informed, well-motivated citizenry supporting its good governance.
With young soldiers returning from World War I and a new century underway, Richmond was ripe for reform and innovation in 1919. Action was needed for better roads and bridges, excellent schools, new library systems, a more efficient city government, a modern airport, a deeper port, and other pressing municipal matters.
Richmond's business and professional leaders banded together to form what later would become known as the Richmond First Club. Over the decades, the non-partisan organization provided guidance and support for major studies and initiatives to move the city forward.
The story of the club is really the history of Richmond government, spanning 10 decades. In his history of Richmond First, Peter Boisseau covers major initiatives that the organization has studied and supported:
•A city public library system
•A city-owned airport and a city-owned sports stadium
•A nationally recognized, comprehensive study of municipal government to improve efficiency during the Great Depression
•Change to a professional city manager form of government after World War II
•A joint public water agreement with Henrico County
•Building I-195 using federal funds rather than tolls
•A major James River Corridor study
•Regional cooperation through a planning district commission, economic development and a conference center
•Another change in the city's form of government: elected mayor-professional management
Dr. Dice Robins Anderson, a highly regarded professor of history at the University of Richmond and one of the founders of the organization, noted:
"In informing themselves first, and then spreading information to other groups and individuals, the Richmond First Club has and will continue to perform a most useful service to our city."
Today, the club strongly supports regional good-government initiatives, such as fair, non-partisan redistricting for Virginia elections. Monthly programs inform members of issues central to the success of the city and the surrounding counties in the metropolitan region
Speakers include area government officials; educators; candidates for office; specialists in transportation, economic development, tourism, and regional cooperation; health care and non-profit service providers; authorities on housing and challenges of the homeless; and political analysts, among other metro region leaders.
As the club moves forward into its second century of public service, Richmond First welcomes new members from all neighborhoods in the region who believe with Jefferson that well-informed citizens are essential for a better government for everyone.
For more information about the important heritage of the Richmond First Club, please enjoy this excellent video prepared for our 100th anniversary celebration.
2020-21 Officers and Directors
President--Suzanne Munson Jernigan
Vice President, Programs--Sam Seeley
Treasurer--MaryAnne Rodriguez
Secretary--Henry Chenault
Communications Director--Jazlyn Green
Membership Director--Chris Couturier
Director at Large--Chris Nazien
Director at Large--Howard Owen
Director at Large--Anne Sterling
Past President--Jane Helfrich
Meet our Officers and Directors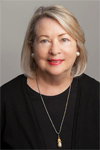 Suzanne Munson Jernigan, President, served as Executive Director of Historic Garden Week in Virginia following a career in corporate communications. A former president of the Richmond Public Relations Association, she recently completed a comprehensive biography about Founding Father George Wythe, "Jefferson's Godfather: The Man Behind the Man". Suzanne teaches college-level courses and gives frequent lectures about the Wythe-Jefferson legacy. She holds an undergraduate degree from the University of Maryland and a master's degree in education from Virginia Commonwealth University and attended The Executive Program of the University of Virginia's Darden School of Business.

Sam Seeley, Vice President, programs. Sam has worked in public relations and marketing for over 25 years mainly running her own communications consulting firm. She has been an adjunct professor in the VCU School of Business for over 10 years teaching marketing and communications. Additionally, she has also taught as a visiting faculty member of the Anglo-American University in Prague. Sam holds a BA from Furman University and an MA from UVA. She served as president of RFC for two terms: 2011-13.

Mary Anne Rodriguez Treasurer, was born and raised in Puerto Rico. She earned a Bachelor of Fine Arts degree from Beaver College (Arcadia University) in PA. While a college student, she met her future husband, also from PR. Married while he completed med school, she taught Art at the Philadelphia Catholic high schools. After following him through Navy service in Florida and fellowship in allergy and immunology, at National Jewish Hospital in Colorado, in 1974, they and their three sons settled in Richmond. In 1981, she founded Cricket & Friends, a children's boutique in Carytown. From 1990 to 2011, was a business manager of local retail stores, joining NationsBank/Bank of America in Richmond on 1996 and in 2001, moving to Philadelphia to start the first office of the Bank of America's Private Bank division. Upon retirement in 2012, she and her husband returned to Richmond. Besides her BFA, she earned a Graduate Certificate in Public Administration from VCU, and as Private Wealth Manager, held Securities Licenses 7, 63 and 66, NASD. For over 30 years, she has participated in as volunteer student mentor in Philadelphia and in Richmond public schools. Currently, a mentor at All Saints Catholic School in North Richmond. Loves a good doubles game of tennis several times a week! Besides her involvement in the Richmond First Club, she enjoys attending lectures at VA Museum of History and Culture, at VMFA, the Jepson Leadership School, and the World Affairs Council. The pride of her life are three sons and three grandsons.

Henry (Hank) Chenault, Secretary, has lived his entire life in Virginia, most of it in the Richmond metropolitan area, except for a brief stint in graduate school in Tennessee and three years in the U.S. Army Security Agency. He holds a B.A. from Randolph-Macon College and a master of humanities from the University of Richmond. He was primarily a reporter for newspapers in Danville and Roanoke before joining The Richmond News Leader as an editor for nearly 28 years.

Jazlyn Green, Communications Director, is a Richmond native who is working in the Human Resource field at the Virginia Housing Development Authority as the Talent Development Specialist. She graduated from Virginia Commonwealth University with a dual degree in Business with a concentration in Human Resources and Real Estate.

Christine Couturier, Membership Director. A native of western Pennsylvania, Chris has lived in Richmond since 2001. She majored in business at Penn State and worked in the banking industry for most of her career, with an additional interest in real estate. Currently, she manages several rentals and enjoys getting to know the tenants. With a grown daughter and son, her children now consist of a horse, six ponies, two puppy dogs, and a cat--all keeping her fully engaged.

Howard Owen, At Large Director, has lived in Richmond for most of the past 42 years. He is the author of 19 novels. Owen was an award-winning newspaper reporter and editor for 44 years. He served stints as deputy managing editor and sports editor of the Richmond Times-Dispatch and as editorial pages editor of the Free Lance-Star in Fredericksburg. He is a graduate of the University of North Carolina at Chapel Hill and has a master's degree from Virginia Commonwealth University.

Anne Sterling, At Large Director. Anne attended Vassar College. She married and finished her last year at New York University. She has served as president of the following: Board of Education (Harford Co. MD), VA Women's Network, League of Women Voters of VA, and American Library Trustees Association. Currently, she is a board member of OneVirginia2021; Richmond Chapter of the AIA, and as a Commissioner of Parks and Recreation in Henrico. She joined the Richmond First Club in the mid-90s, and has remained a happy member, ever since!

Jane Helfrich
, Past President, has been in the nonprofit world since 1982 in Richmond and has recently retired as CEO for Richmond Metropolitan Habitat for Humanity after six years. She has also been in professional positions as executive director and/or resource development for Friends Association for Children, the Junior League of Richmond and Better Housing Coalition. Jane arrived in Richmond after she graduated from college in 1971 to work for A.H. Robins. She also spent 16 years as the administrator of the Virginia Mental Health, Mental Retardation, and Substance Abuse Services Board. Jane is the mother of two daughters and has one grandchild.