---
Welcome to the Richmond First Club. Join our members and guests for our series of speakers, usually on the second Wednesdays of the month, at noon (networking at 11:30 and lunch starting at 12:00 noon) at Willow Oaks Country Club, see calendar at left. The club's purpose is to generate conversation among knowledgeable regional leaders and residents on current topics of civic and public affairs.
---
February 12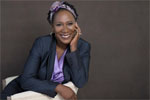 Christy Coleman, retiring CEO of the American Civil War Museum, presents an overview of the museum's inclusive, innovative focus during our February 12 program. The museum speaks frankly about the complicated legacy of a war the country is still reverberating from in today's polarized political climate. A major Richmond tourist attraction formed from a merger between the American Civil War Center and the Museum of the Confederacy, the museum provides a non-partisan exploration of the war from multiple perspectives: Union and Confederate soldiers, enslaved and free African Americans, immigrants, women, and children. Coleman began her career at the Colonial Williamsburg Foundation and previously served as president and CEO of the Charles H. Wright Museum of African American History in Detroit.
---
We invite you to join us with some good questions. Please note that we will be at Willow Oaks Country Club and networking begins at 11:30 am and lunch starting at 12 noon. Please be sure to register by Monday, February 10 at 3pm so you are certain to have a seat.
Richmond First Club
Monthly Luncheon

The public is cordially invited to join us at our next Lunch Meeting, the second Wednesday of the month September through June, unless a change is specifically announced.

Willow Oaks CC - 6228 Forest Hill Avenue, Richmond, VA
$20 for Members/ $15 First Time Guest/ $25 Repeat Guest/ $25 Public
Reserve Your Seat Now, call (804)263-2152 or email
richfirclub.2019@gmail.com
Membership Application click here.
Meetings are held the second Wednesday of each month unless otherwise noted. The public is invited to attend.
Missed one of our Meetings?
Click for summary of previous speaker presentations.
RFC board meeting - immediately after regular meeting.