The Richmond First Club fulfills its purpose largely through a monthly series of luncheon meetings featuring knowledgeable speakers on current topics of interest to inform regional leaders and residents. The club provides access to insight from key area leaders.
Schedule of Speakers for 2019-20
All meetings are held on the second Wednesday of the month at the Willow Oaks County Club unless otherwise noted.
September 11 - John Hager. Click here to read more about John Hager.
October 9 - Mayor Levar Stoney. Click here to read more about Richmond's Mayor Levar Stoney biography.
November 13 - Jason Kamras. Click here to read biography.
December 11 - Stephen Farnsworth. Click here to read biography.
January 15 - Andy Edmunds. Click here to read biography
February 12
Speaker: Christy Coleman, CEO, American Civil War Museum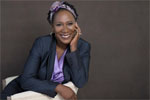 Christy Coleman grew up in Williamsburg, Virginia, and earned her Bachelor's and Master's degrees from Hampton University. She currently serves as CEO of the American Civil War Museum, located in Richmond and Appomattox, Virginia. In her role as CEO, she has been instrumental in furthering discussion around the Civil War, its legacies, and its relevance to our lives today not only in the Richmond region but around the nation and leading the museum to national prominence. She began her career at the Colonial Williamsburg Foundation. During her time with CWF she had increasing levels of responsibility finally serving as Director of Historic Programs being responsible for all programming and tours in the Historic Area. In 1999 she left to become President and CEO of the Charles H. Wright Museum of African American History in Detroit, Michigan. In 2008, Ms. Coleman was named President and CEO of the American Civil War Center at Historic Tredegar (ACWC). In 2013 she helped orchestrate the merger of ACWC with the Museum of the Confederacy to create the American Civil War Museum. In addition to her work at ACWM, Christy has served on a number of local commissions and national board. She strives to make museum experiences meaningful to diverse communities. A tireless advocate for the power of museums, narrative disruption and inclusive, she has been an innovator and leader in the history museum field. She's written numerous articles, is an accomplished and award-winning screenwriter, public speaker and has appeared on several national news programs and documentaries.
March 11
Speaker: Louis Lassiter, CPA and City Auditor for Richmond
April 8
Speaker: Brian Cannon, Executive Director of OneVirginia2021
Topic: Redistricting, what's next?
May 13
Speaker Name: J. Michael Hawkins, PhD, AICP The Managing Director of Community Outreach at VHDA
Topic: Advancing Housing Opportunities in the Richmond Metropolitan
June 10
Speaker: Richard Schragger, Professor at the University of Virginia School of Law.
Topic: The Past and Future of Home Rule in Virginia.
---
Look who spoke last year, click here to view the 2018-2019 speaker series.
---