The Richmond First Club fulfills its purpose largely through a monthly series of luncheon meetings featuring knowledgeable speakers on current topics of interest to inform regional leaders and residents. The club provides access to insight from key area leaders.
Schedule of Speakers for 2019-20
All meetings are held on the second Wednesday of the month at the Willow Oaks County Club unless otherwise noted.
September 11 - John Hager. Click here to read more about John Hager.
October 9 - Mayor Levar Stoney. Click here to read more about Richmond's Mayor Levar Stoney biography.
November 13 - Jason Kamras. Click here to read biography.
December 11 - Stephen Farnsworth. Click here to read biography.
January 15 - Andy Edmunds. Click here to read biography
February 12 - Christy Coleman. Click here to read biography
March 11
Speaker: Louis Lassiter, CPA and City Auditor for Richmond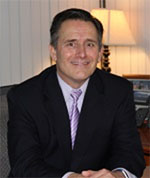 Mr. Lassiter has 25 years of professional experience in state and local government auditing. He previously served as Deputy/Assistant County Administrator and the Internal Audit Director for Chesterfield County. He is a past president of the Virginia Local Government Auditors Association and served on the board for the Association of Local Government Auditors, a national organization representing local government auditing. He holds a Master of Arts (M.A.), in Christian Leadership Studies from Liberty University and a Bachelor of Business Administration (B.B.A.), from James Madison University. Mr. Lassiter is a Certified Public Accountant, Certified Information System Auditor, Certified Fraud Examiner and Certified Government Financial Manager.
April 8
Speaker: Brian Cannon, Executive Director of OneVirginia2021
Topic: Redistricting, what's next?
May 13
Speaker Name: J. Michael Hawkins, PhD, AICP The Managing Director of Community Outreach at VHDA
Topic: Advancing Housing Opportunities in the Richmond Metropolitan
June 10
Speaker: Richard Schragger, Professor at the University of Virginia School of Law.
Topic: The Past and Future of Home Rule in Virginia.
---
Look who spoke last year, click here to view the 2018-2019 speaker series.
---