---
Welcome to the Richmond First Club. Join our members and guests for our series of speakers, the second Wednesdays of the month, at noon (networking at 11:30 and lunch starting at 12:00 noon) at Willow Oaks Country Club, see calendar at left. The club's purpose is to generate conversation among knowledgeable regional leaders and residents on current topics of civic and public affairs.
---
Mark your calendar and plan to join Richmond First Club on Wednesday, April 10. Come at 11:30 for registration and networking; lunch begins promptly at noon.

---
Richmond First 100th anniversary speaker: John V. Moeser (April 10, 2019)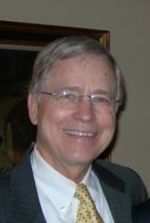 John V. Moeser is Professor Emeritus of Urban Studies and Planning at VCU where he taught for 34 years. Upon his retirement, he was invited to become Senior Fellow at the Bonner Center for Civic Engagement at the University of Richmond where he served for 12 years. Altogether during his 46 years, he taught classes, wrote books, journal articles, and multiple commentaries dealing with race, poverty, politics, and political power in Richmond and the Urban South. He has been extensively involved in state and local government commissions and multiple non-profit organizations.
---
GIVE IT UP FOR RFC!
(Your memorabilia, that is.)
As part of the celebration of the one hundredth anniversary of its existence, the Richmond First Club is seeking memorabilia from those years - programs, membership rosters, correspondence, newspaper clippings, photographs, etc. - to be placed in an archival box for storage. The box will be opened fifty or one hundred years hence so that members of the club then can learn what their ancestors, we and our predecessors, were doing to enlighten, at first, citizens of the City of Richmond and, now, of the greater Richmond metropolitan area about ideas and efforts that might improve governmental practices and their lives.
Contributions will be collected at the club's one hundredth anniversary gala at the Branch House Museum of Architecture and Design on the evening of April 2 or at the club's one hundredth anniversary luncheon meeting at Willow Oaks Country Club on April 10. So please search for RFC memorabilia to help the club establish its posterity.
Thanks!
---
RFC Takes on Redistricting - click for news and information.
Richmond First Club
Monthly Luncheon

Wednesday, April 10

The public is cordially invited to join us at our next Lunch Meeting.

Willow Oaks CC - 6228 Forest Hill Avenue., Richmond, VA
$20 for Members/ $15 First Time Guest/ $25 Repeat Guest/ $25 Public
Reservations, email: emglazier1@gmail.com or call 804-358-0011.

Membership Application click here.
Meetings are held the second Wednesday of each month unless otherwise noted. The public is invited to attend.
Missed one of our Meetings?
Click for summary of previous speaker presentations.
RFC board meeting - immediately after regular meeting.