---
Welcome to the Richmond First Club. Join our members and guests for our series of speakers, the second Wednesdays of the month, at noon (networking at 11:30 and lunch starting at 12:00 noon) at Willow Oaks Country Club, see calendar at left. The club's purpose is to generate conversation among knowledgeable regional leaders and residents on current topics of civic and public affairs.
---
Mark your calendar and plan to join Richmond First Club on Wednesday, February 13. Come at 11:30 for registration and networking; lunch begins promptly at noon.

---
February 13
Lucy Meade
Director, Economic Development & Community Relations, Venture Richmond, Inc.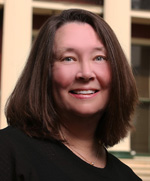 Lucy is a champion of Richmond's creativity, innovation, revitalization and future. For 28 years, she has been a catalyst, with business and community leaders, to enhance the vitality of Richmond through economic development, marketing, promotion, advocacy and events. Lucy has initiated and executed many programs that make Richmond a more vibrant and economically successful community.
She has a passion for high-impact, transformational initiatives and one of those is RVA. She leads the collaborative team effort that created the RVA Creates brand for Richmond. The initiative highlights our community pride and celebrates our creativity and innovation. The RVA brand is open-source, which means it belongs to the whole community. Anyone can use it for their personal or business use. RVA is the first Richmond brand to be embraced by residents throughout the region.
In preparation for the UCI Road World Cycling Championships, she led several beautification initiatives including: working in partnership with Maymont and the city on the 3rd and 5th Street Gateways, which are major arteries into the city, and working in partnership with Lewis Ginter on a botanical makeover of the Canal Walk and a 13-block area in the Downtown Arts District.
She has been involved in a variety of initiatives including: spearheading the city's Commission on the Tax Abatement Program; producing an Emmy-nominated TV show with NBC12; helping to launch the National Folk Festival in Richmond; developing the Downtown Clean and Safe Program; spearheading Richmond's holiday skyline lighting; and annually chronicling downtown's economic transformation through forums, TV shows, publications and online. These are some of the ways that Lucy has enhanced the profile of downtown Richmond's transformation, which reflects a national trend of people moving back to cities.
Over the years, she has served on numerous nonprofit boards, including Friends of Art (VMFA), Meals on Wheels, Leadership Metro Richmond, RVA Chamber, Visual Arts Center, Culture Works, and co-founder of C3: The creative Change Center. She currently serves as a board member of 1708 Gallery, Virginia Capital Trail Foundation, The Shockoe Partnership and Lewis Ginter Botanical Garden.
When she's not preaching the story of Richmond's creativity, innovation and revitalization, she nurtures her own creative spirit by laughing, learning, volunteering, biking, painting and savoring life with interesting friends. She rarely passes up an opportunity for an adventure.
---
RFC Takes on Redistricting - click for news and information.
Richmond First Club
Monthly Luncheon

Wednesday, February 13

The public is cordially invited to join us at our next Lunch Meeting.

Willow Oaks CC - 6228 Forest Hill Avenue., Richmond, VA
$20 for Members/ $15 First Time Guest/ $25 Repeat Guest/ $25 Public
Reservations, email: emglazier1@gmail.com or call 804-358-0011.

Membership Application click here.
Meetings are held the second Wednesday of each month unless otherwise noted. The public is invited to attend.
Missed one of our Meetings?
Click for summary of previous speaker presentations.
RFC board meeting - immediately after regular meeting.