---
Welcome to the Richmond First Club. Join our members and guests for our series of speakers, usually on the second Wednesdays of the month, at noon (networking at 11:30 and lunch starting at 12:00 noon) at Willow Oaks Country Club, see calendar at left. The club's purpose is to generate conversation among knowledgeable regional leaders and residents on current topics of civic and public affairs.
---
PLEASE NOTE THE SPECIAL ARRANGEMENTS FOR OUR FINAL MEETING OF THE CLUB YEAR.
---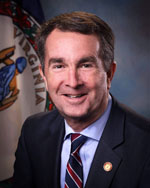 Our speaker will be Virginia Governor Ralph Northam and we will be meeting at JEFFERSON LAKESIDE COUNTRY CLUB, 1700 Lakeside Avenue (adjacent to Lewis Ginter Botanical Garden).
Our meeting is JUNE 5th, the FIRST Wednesday of the month. Lunch will be served at 11:45 and the Governor will begin his remarks promptly at NOON.
We are having a PLATED LUNCH with chicken entree, not a buffet. If you require a VEGETARIAN OPTION, please email emglazier1@gmail.com.
Following the Governor's remarks, we will show our 100th anniversary video and members will vote to elect the board of directors for next year.
Because this is a plated luncheon and not a buffet, we need a definite headcount so please be sure to REGISTER BY THE DEADLINE OF TUESDAY MAY 28TH AT 5:00 PM.
So plan to come a little early (11:15) to network and to celebrate with Richmond First as we close our 100th anniversary year.
We look forward to seeing you on Wednesday, June 5th at Jefferson Lakeside Country Club for this special meeting.
---
GIVE IT UP FOR RFC!
(Your memorabilia, that is.)
As part of the celebration of the one hundredth anniversary of its existence, the Richmond First Club is seeking memorabilia from those years - programs, membership rosters, correspondence, newspaper clippings, photographs, etc. - to be placed in an archival box for storage. The box will be opened fifty or one hundred years hence so that members of the club then can learn what their ancestors, we and our predecessors, were doing to enlighten, at first, citizens of the City of Richmond and, now, of the greater Richmond metropolitan area about ideas and efforts that might improve governmental practices and their lives.
Contributions will be collected at the club's one hundredth anniversary gala at the Branch House Museum of Architecture and Design on the evening of April 2 or at the club's one hundredth anniversary luncheon meeting at Willow Oaks Country Club on April 10. So please search for RFC memorabilia to help the club establish its posterity.
Thanks!
---
RFC Takes on Redistricting - click for news and information.
Richmond First Club
Monthly Luncheon

Next meeting will be on: Wednesday, September 11 (There are no meetings in July and August.)

The public is cordially invited to join us at our next Lunch Meeting.

Willow Oaks CC - 6228 Forest Hill Avenue., Richmond, VA
$20 for Members/ $15 First Time Guest/ $25 Repeat Guest/ $25 Public
Reservations, email: emglazier1@gmail.com or call 804-358-0011.

Membership Application click here.
Meetings are held the second Wednesday of each month unless otherwise noted. The public is invited to attend.
Missed one of our Meetings?
Click for summary of previous speaker presentations.
RFC board meeting - immediately after regular meeting.